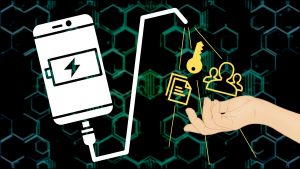 Airports, hotels, cafés, even shopping malls, offer public charging points where you can boost your phone or laptop battery on the go.
 They've been in the news after the FBI recently tweeted advice to stop using them. Crooks have figured out how to hijack USB ports to install malware and monitoring software onto devices as they charge.
Watch our brief video below to learn more about juice jacking and how to protect yourself from it. 
iMedia offers a free executive IT guidebook every month to provide you with up-to-date information and tips to help your businesses' IT run smoothly.
Click here to opt-in to receive our guidebook every month, delivered to your e-mail absolutely free.