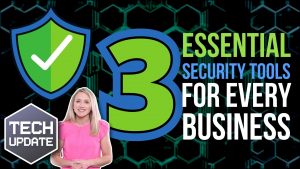 Your data is one of your most valuable business assets. Keeping it safe should be one of your main priorities. So if you don't have much security in place, there's a minimum standard you should be implementing, right now.  
There are dozens of security solutions available that all perform different tasks – from preventing criminals gaining access, to recognizing attacks in progress, and then limiting the damage that can be done.
Watch the brief video below to learn about three tools that every business should put in place as a basic level of protection.
iMedia offers a free executive IT guidebook every month to provide you with up-to-date information and tips to help your businesses' IT run smoothly.
Click here to opt-in to receive our guidebook every month, delivered to your e-mail absolutely free.