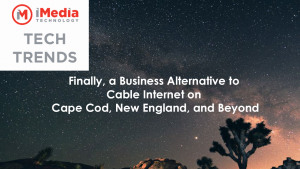 Cable Internet reliability has  improved a lot over the years.
So much so that redundancy hasn't been top of mind for many business owners. Until now.
With iMedia clients feverously moving to cloud based servers and desktops, the need for Internet redundancy has moved to the front burner. Even a days outage due to a storm or utility disruption can cause significant financial loss and unhappy customers. But the options have been few.
Elon Musk and his StarLink satellite services is now available on Cape Cod and within most of New England. You just need a clear view of the sky. Sign me up Scotty!
StarLink's business service is $500 a month, comes with a static address,  and 150-500 Mbps download speed. That's good enough for most SMB's. Yes, it's a bit pricey. However when you're relying on a weak cell signal, unreliable connection, or other aging Internet technology, StarLink seems like a golden egg.
There's also an RV plan for mobile users, and a Residential plan as well. The RV plan makes a lot of sense for temporary office space, trailers, job sites, etc. Combining satellite internet with Windows Virtual Desktops makes working from anywhere totally possible, affordable, and a no brainer.
If you don't know if your business should have redundant Internet , or aren't sure if your internet solution is the best fit, give iMedia technology a call. Tell us what you expect, and we'll help you understand what can be achieved.
We've been working with businesses for 24 years providing Unmatched IT Support here on Cape Cod, eastern MA, and now nationwide.