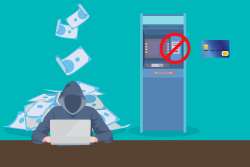 Imagine spending your lifetime building a business. A successful business. And overnight, everything you have built is gone. Your reputation. Your clients, Your employees. Gone. Your business wasn't able to survive the damage a cyber criminal subjected. The U.S. Securities and Exchange Commission estimates that half of the small businesses that suffer a cyber attack go out of business within six months. Fortunately you have a cyber liability policy to reduce losses.
In 2021 it's no longer a matter of if your company is hacked with a cyber breach, it's a matter of when. Speaking to your Insurance Agent about a Cyber Liability Insurance policy makes good business sense. Cyber crime is a growing threat and cyber liability policies are designed to minimize your losses.
Your insurance agent can help you find the right policy as there are a lot of options. Some policies focus on specific industries. Healthcare, retail, financial services all have different cyber liability risks. So finding a policy suited for your industry is a good place to start.
Once your agent helps you find the right carrier for you, you need to do a little bit more to ensure future claims are honored. Begin by understanding what your obligations are with your cyber liability policy. Most cyber policies describe what proactive steps you must take to minimize a cyber breach. At the very least you are expected to use only supported software. Anti virus/malware, spam filtering, web filtering, firewall logging and other layers of security are likely required.
As a business owner, you are responsible for communicating to your IT support the requirements of the cyber liability policy. Do not assume IT "knows" what to do. Do not assume "we have cyber security". Get into specifics, line by line. The policy is protecting your greatest asset, your business.
Go above and beyond the minimal requirements required by your policy. Let's face it, submitting a claim isnt exactly like winning a lottery. Its truly a last resort. If you care enough to purchase a policy, ensure you've done your part to avoid a claim. Meet with your IT advocate and discover the gaps that exist. Now is the time to fix the gaps. It just might prevent the need for a future claim.
iMedia Technology provides Managed IT and helps business owners implement, maintain, and manage their cyber resiliency so they can sleep with piece of mind.
External Link:
Learn More About Cyber Security With Some More of Our Blogs:
6 Ways Microsoft 365 Can Increase Your Business Productivity (imediatech.com)
The Phone System Your Business Needs To Grow From Anywhere (imediatech.com)
4 Ways Technology Can Effortlessly Grow Your Business (imediatech.com)