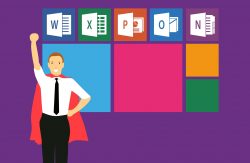 Microsoft 365 can give your business powerful capabilities. Through AI powered tools you can unleash your business's creativity and fuel innovation. You can now create high-quality content that really stands out. AI-powered tools help you turn an ever-growing mass of data into actionable insights to help transform your business.  
Stay focused with fewer distractions and easily access the people and information you need without leaving the comfort of your own desk/ home/ office.  
We understand businesses are always seeking to stay competitive in an ever-changing commercial landscape. Your goal is to drive top-line growth, cut costs and better serve their customers.  
Unlock the potential of your employees, drive process automation, capture the collective knowledge of your business, and avoid potential security, compliance or privacy risks that may ruin the progress you have made. 
Here are 6 ways to do all of that using Microsoft 365: 
1.Enable teamwork and simplify workflow. 
Collaborate, meet, call, and connect business applications all in one place with Microsoft Teams. 
2. Stay productive on the go. 
Easily transition from computer to mobile devices. 
3. Get more done with AI-enabled tools. 
Fuel creativity, discover new insights, elevate search and get personalized assistance with built-in intelligence features. 
4. Harness organizational knowledge. 
Quickly turn data into insights. Then empower employees with the information and expertise they need to get their work done with Workplace Analytics. 
5. Manage all your endpoints. 
Deploy a seamless, end-to-end management solution and gain visibility across all connected devices with Microsoft Endpoint Manager. 
6. Protect your business. 
Elevate and modernize your security, manage risk, and meet compliance standards on a trusted cloud.
To learn how iMedia Technology can integrate Microsoft 365 seamlessly into your business give us a call at 508-790-4171. Or schedule a consultation now for a free IT assessment where we can chat about the above. You deserve unmatched IT support. You can get it with iMedia.