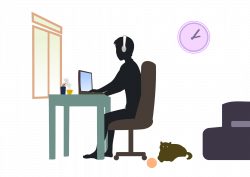 Most businesses discover they've been hacked long after the initial breach occurred. They find out after the damage has been done:
When the bank balance drops.
When the client called because the phishing attack succeeded
When a ransom message appeared on the monitor.
Perhaps you are one of the few business owners who feel like you're doing everything possible to protect your business and all that you've built. Unfortunately there's always more that needs to be done.
Unlike antivirus software, where you buy, install, and then promptly forget, security management requires a bit more effort. With knowledge of our client's business and IT usage, we're able to fine tune what to look for.
We gather data from log files on all network devices  and begin to analyze. We're looking for trends and abnormal behavior to flag suspicious activity and investigate.
Here are a few real-world examples of SIEM that you may relate to:
Office 365 accounts are extremely valuable to hackers for phish targets. If you normally work/live in Massachusetts we can detect if your account has been logged in from a different geography. Maybe you logged in from home, and then an hour later someone logged in from California. "Hey, someone else is in my Outlook". Appears to be a breach in action, lets reset the password and get them out.
Another common threat is a large increase in email volume. Who is sending out all that email? – lets check.
If you use SharePoint for file sharing, we can monitor access for abnormal use. If there are many attempts to connect to SharePoint from the Philippines, we can block access.
Ransomware installed on a computer typically "phones home" for instructions. Tracking internet requests is a way to identify oddities that look suspicious, particularly if it's to a site known to be dangerous. An investigation can get started before it's too late.
Those who have suffered from cyber crime understand the gravity of being violated and the financial loss.
For those who haven't, you still have time to greatly reduce your odds. Proper IT management, user training, and proactive monitoring with SIEM is the new baseline.
Have piece of mind that the business you built can avoid cybercrime today and into the future. Especially while working remote, you need to feel confident you are protected.
Schedule a free consultation with us to learn what steps can be taken to ensure your business will be secure and productive while working from anywhere. You deserve to feel taken care of, and rest assured knowing your IT is in good hands. Visit www.imediatech.com to learn more or give us a call at 508-790-4171 to get started fast.