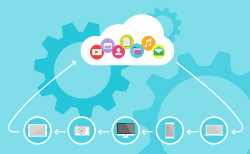 If you are debating moving your business to the cloud, you have probably doubted it for the following reasons. When you rule your business decisions based out of fear, you are holding yourself back. The following explanations will prove why it is important to grow your business with your technology.
It's cheaper to buy computers and servers and keep them in my office. 

Comparing a monthly Cloud price to a one-time capital purchase of computers/servers doesn't accurately reflect costs or value. Cloud services include other services and benefits that your onsite equipment won't provide. A better way to evaluate your IT investment is to look at a 3 year period that includes all of your IT costs.  

The cloud isn't reliable enough. I would rather have my computers in the office. 

The cloud has become very reliable over the years. Online banking, shopping, shipping, just about every aspect of commerce depends on the cloud for a business to function. If you think about how you use a computer, you will soon realize how heavily dependent you are on the cloud. 

Our company has simple needs, and the cloud seems too fancy for us. 

All technology trickles down from Enterprise to Medium size business, to Small business. We are at the point where the price/benefit of cloud technology benefits many small businesses. 

I tried the cloud before, and it was slow.  

If you have tried Remote Desktop, or connecting to work from a VPN, you've most likely been disappointed with connectivity, performance, and printing issues. Windows Virtual Desktops (WVD) have dramatically improved the cloud desktop experience. It's worth another look. 

I don't trust the cloud with my data. I want my data in my building. 

Government, Enterprise corporations, Banking, Hospitals, and many other large institutions use the cloud to store their data safely and securely. Cloud vendors are vested in keeping your data secure and private and are easier at meeting compliance needs. Cloud providers have resources that your humble IT support will never have to protect you. 
Your business should not be tied down by aging technology. At iMedia Technology, we create a custom Cloud strategy, give you a plan and budget, and implement a cloud solution so you can be confident your business is secure, productive, and competitive.