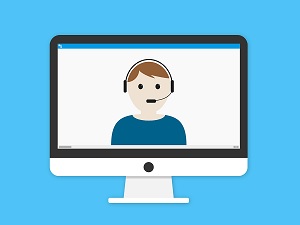 Finding the perfect fit for your team has always been a challenge, but with more and more people now working from home, it's gotten even more complicated. In-person interviews might not always be possible or safe. By embracing technology, you can find the perfect candidate and get to know them too. Here are a few tips to help you find an excellent candidate for your company.
Get on social media! 
Social networks aren't just for viewing and sharing photos of your food, pets, or favorite car. These platforms are a great way to find and meet potential employees. Posting job opportunities to your social channels encourages people to apply for open roles. One of the best being LinkedIn—the world's largest professional online network. By using social media, it gives you the opportunity to get to know your candidate and help them get to know you!
Write an enticing (but true) job description  
When writing a job description, it's easy to make your company sound like all rainbows and butterflies. While it is important to highlight the best parts of the job, be sure to add some language that will steer the wrong type of people away.  Be very clear from the start. Include a list about what exactly you're looking for in a candidate so that you aren't bombarded with unqualified applications.
Any hard skills that are needed for the job are very important to include. These include programs that are used regularly, coding languages, or anything that is going to be necessary to complete day-to-day tasks. Skills that can be easily learned or are not as important are not as important to add to the description. Too many qualifications may scare even the most qualified away!
Call or talk face to face  
Once you've decided on a few candidates for a position, you're going to want to get to know them.  Before jumping into a video chat, start with a phone call. Talking on the phone is a bit more informal. This conversation can help you assess if someone meets the requirements for the role. It can also give candidates a chance to ask any questions to determine if the role is right for them before moving to the next step. After you've conducted a phone interview, you can move on to scheduling time face to face - even when you can't meet in person.
Seeing your candidates  
Since we're not always able to meet and shake hands, using a video conferencing app like Microsoft Teams or Zoom allows you to get that in-person conversation. Even if you're miles apart, video conferencing can be used to schedule group conversations. Often there are multiple people who need to meet with a candidate, which you can do form the comfort of everyone's own home office. And, since we're all dealing with different work-from-home situations, features like background blur can help to focus the conversation on the candidate and not what's happening in the background.
Embracing change  
A lot has changed with the job market. Many companies cannot afford to hire someone while others cannot afford to not hire someone. By adopting these work from home practices, you might discover that finding and hiring talent can be just as successful as it has been in the past. Using social media allows you to open your job search and find the best candidates from all around the world. Video chat allows us to make that in-person connection even when circumstances don't allow us to be in the same room. And, a few considerations on how you meet with candidates can help set you up for success.
Getting set up to work from home isn't easy. If you need help give us a call at 508-790-4171 or email us at hello@imediatech.com. You can schedule a free consultation to get started today!