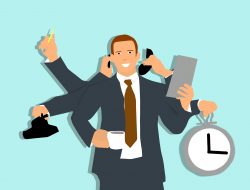 What does your Managed IT Service do to help you save money, make money, or grow your business?  
All to often business owners don't know what they can or should expect from their Managed IT service -and that's not fair. Owners and managers have shared with us they don't want to be drowned in IT audits, risk assessments, or geek out with us on the latest technology. 
What business owners want is someone who they can strategize with. Someone who understands business and IT. Someone who can guide them with relevant technology options to solve their unique business problems. 
With 23 years of expertise, iMedia Technology can guide you by asking the right questions. We will work with you so that your IT becomes an investment and makes you money.  
 What's at stake is the health of your business. Client retention, cash flow, sales growth, your cost of doing business can all be impacted by IT. If you don't find a way to use technology as an advantage, your competitors will. We know because we manage the IT of many businesses who value our IT guidance. 
There is a lot to gain when you have someone to strategize business IT with.  Someone who can understands business applications can help you fix what you don't like in your business. Maybe you need a client portal. Perhaps social media is a black hole or you want to optimize labor and lower your costs. Whatever it is for you,  
 For Manage IT Services to have an impact on your business, you need a plan. After all, you have a business plan, a financial plan, a sales and marketing plan. You need an IT plan. Without a plan, you're playing a guessing game and more often than not throwing good money after bad. 
Schedule a consultation with iMedia Technology
Discover your options and if an IT strategy will make a difference 
Get started on your IT investment and grow your business.
 Managed IT Services should keep your technology secure, up and running, and your employees productive. We don't think that's enough. 
Imagine how much more value you would get if you had that new prospect database you were thinking about. What if you finally had sales metrics? Imagine if your AR and AP were no longer paper dependent how much more efficient your company would be. What if your receivables were cut in half. Imagine your clients finding it easier to do business with you rather than your competitors. 
If your business has 15 to 75 employees who depend on technology, we think iMedia Technology might be your competitive advantage. Visit iMediaTech.com today and schedule your Managed IT Services consultation or give us a call at 508-790-4171. Discover your options. Then get started on your IT investment and grow your business.  
After all, the Managed IT Services company you work with should help you make money, save money, and grow your business.