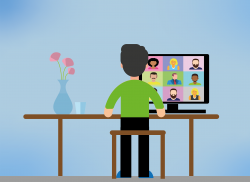 Sending employees home to work can be intimidating. For many companies, working remotely is nothing new. In extraordinary circumstances such as natural disasters, utility outages or pandemics, many thousands of workers can instantly be displaced from their normal office setting. That is a lot of change to handle. How do you communicate with your team when you can't be with them every day?
Video conferencing is an amazing tool to keep remote teams working efficiently and feeling connected. Here at iMedia Technology, we use Microsoft Teams for a daily morning huddle to recap our IT support efforts. When communicating with clients or prospects, we usually use Zoom for a virtual meeting. If you are new to working from home, or even a seasoned telecommuter,  there is always more room to improve. These tips will help make your video conferencing sessions more productive, successful, and even fun!
Working remote can be scary. Whether you're  presenting, a member of a small team, or one of many participants, taking the right approach to video conferencing can help the meeting achieve the intended goal.
Follow these 5 tips for better video calls:
Move To A Secluded Area
Most likely, your resource for a video conference will include a laptop computer or a mobile device such as a tablet or smartphone. Unfortunately, the microphones on those devices typically pick-up audio in  the general vicinity of the microphone. Microphones built into devices tend to pick up background noise which can be distracting to all participants.  When possible, move into an office or room away from outside noise when in a meeting.
Another option to consider is using a headset with a built-in mic which is focused directly in front of your mouth. Consider a head set with a noise-cancelling microphone to filter out ambient noise. When you can't escape the noise of life, a noise cancelling microphone will help limit surrounding sounds like barking dogs and unhappy children.
Wear Work Attire
When appearing on a video conference, you should exhibit a professional appearance . When speaking, either look directly at the camera or just slightly to the side to provide the best image.  Set up your camera in a well-lit area, preferably with the light facing you. Natural lighting is best, but any light will do. Good lighting makes it easier to see your facial expressions and better communicate body language to your coworkers.
Your background should be professional, as well. If you don't want to display your home office or actual location, video conferencing tools such as Microsoft Teams allow you to blur the background or select from a variety of provided backgrounds. A professional background will show that you are in the right head space to take on a day of work.
Meet Regularly
When employees are not acclimated to this new way of working they may feel they are out of touch with the team and managers. Feeling isolated can result in lost productivity. While you can't stop in and check on employees at their desks, a video call can be a close substitute.
Setting up regular status video conferences to touch base with everyone goes a long way. IMedia Technology takes this very seriously. At exactly 8:52 am every day our whole staff gathers on Teams to discuss our day. This is a good time to talk about any questions or concerns with the whole team and let everyone know of your plans for the day/week. Talking one-on-one with employees is also helpful to ensure everyone feels seen and is on the same page. By using video calls, it helps remote workers with face-to-face contact which helps maintain interpersonal team relationships.
Consider Recording Online Staff Meetings
It is not always possible to schedule video conferences that everyone can attend every time. You may consider recording your scheduled staff meetings. This way those unable to attend can still reap the benefits of remote staff calls.
It can also help those participants who were involved in the meeting but want to look back at key points that are essential to their growth.
Don't Forget About Security!
What makes video conferencing so great is its availability. You can connect with your team practically anytime, anywhere. You also have the option to call from nearly any device—from home desktop computers to mobile devices such as laptops, smartphones, or tablets.  Easy accessibility can be great for communication, but also opens up risks for business. You should always use cyber security best practices when presenting and attending video conferences. Here are some things to consider:
Use a VPN when working from Home WiFi for added security
Keep Windows software updated to ensure security patches are applied
Change home router passwords from manufacturer defaults to secure passwords.
Computers or mobile devices should incorporate antivirus and malware detection to avoid compromising communications
Video conferencing is a highly useful tool for communicating with remote work teams. Choosing the right equipment and software tools will enhance the experience and productivity achieved with the technology. Let's not forget how important cyber security is while working from home.
If you need guidance on how technology can help you better your business and feel more secure at home, reach out to us for a consultation at www.imediatech.com. We've helped hundreds of companies and their employees switch to working remote from home. Let us know if we can help you .