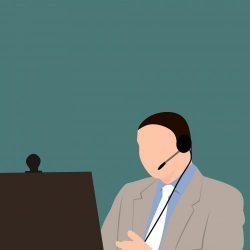 Are you tired of horrible quality phone calls? Worried your phone will drop out with the wrong gust of wind? And with employees working remote- how can they make and receive calls from the business number?
Many factors can affect the quality of your business phone calls. A phone outage can add to client frustration resulting in lost opportunity, diminished value, or be the final straw that causes a client to look elsewhere for services. iMedia's clients have changed over time. About half of our clients have customers beyond the local region, and several have clients across the country. When a regional utility outage affects the Cape or South Shore, it impacts our ability to service our distant clients.
Few SMB's have the revenue to justify generators, redundant internet, duplicate computer hardware, or automatic failover systems. iMedia solved the phone problem with a hybrid phone system that automatically redirects calls to an app on your cell phone in the event your office handset is offline.
When a call is made or received on your smartphone app, its as if you were using an office phone. The conversation is transparent to the person your speaking with as they have no idea your enduring a blackout!
Even if you're unable to work, the ability to talk to a client, listen to there needs, and set expectations goes a long way to improving the service and value proposition of your business.
As a business owner or valued employee, you know client communication is the most important part of your business. Take the stress of inadequate phone calls away by relying on a trusted VoIP phone system with iMedia.
The process is easy:
Meet With Your Technology Advocate
Work with us to create a custom phone system strategy
Confidently make important business calls without fail!
Visit us on our website and schedule your strategy session today! Or call us directly at 508-790-4171 or email at hello@imediatech.com to get started ASAP.
In the meantime, download our VoIP free report to learn more about how this hybrid phone system can help your business grow from anywhere.
-John Garner
President, iMedia Technology